Peintures Yvonne Rémond-Murphy
mardi 19 novembre 2019/samedi 21 décembre 2019
Entrée libre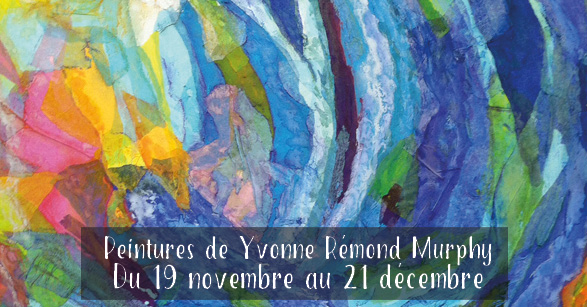 Dans le cadre de la Route des Contes.
Yvonne est originaire de la ville médiévale de Kilkenny dans le sud est d'Irlande. Elle fut influencée par le riche artisanat du comté notamment la poterie, le tissage et l'orfèvrerie.
Elle puise son inspiration dans la nature brute des côtes Irlandaises, l'énergie des vagues et la beauté des paysages de la réserve naturelle « The Burren » à l'ouest de l'Ile.
Elle utilise des textures et diverses techniques pour créer de la profondeur et du mouvement dans des toiles abstraites. Elle aime que ses couleurs reflètent les teintes vives des maisons irlandaises.
Yvonne is originally from Kilkenny, a medieval city in the south east of Ireland. She was influenced by the rich craft and culture of her home county.
Her inspiration is founded in the rugged nature of the Irish coastline, the energy of the Atlantic waves crashing on the shores and the natural beauty of the « Burren National Park » on the Wild Atlantic Way.
She uses textures and movement to create depth and atmosphere. Her colourful palette mirrors the brightly painted houses dotting the Irish landsca